Next FULL course (5 days):
29th January 2024
Next Refresher course (1 day):
15th April 2024
​Who is the program for?
This course aims to give safety and health representative, supervisors, manager and others, the basic knowledge and skills to perform their roles and functions under legislation. Elected representatives are entitled to have time off with pay to attend this course. It is mandatory that the employer pay all costs associated with attending this course.​
Safety and Health Representatives, as elected representatives of their work group in matters of Occupational Safety and Health, play an important role in developing and maintaining consultation and cooperation between employers and employees.
The workplace functions of Safety and Health Representatives as set out in the legislation are to:
carry out regular inspections of the workplace
immediately carry out an appropriate investigation of any accident, dangerous occurrence or risk of imminent and serious harm to any person
keep informed on safety and health information provided by the employer about the workplace
liaise as necessary with WorkSafe or the Department of Industry and Resources and other Government or private bodies
consult and cooperate with the employer on all matters relating to safety and health at work
liaise with employees about matters concerning their safety and health at work and
report to the employer any hazard or any potential hazard to which a person is exposed or might be exposed to at work.
​Entry Requirements
There are no entry requirements for this course. It is a very practical course designed to introduce you to the functions of the Health & Safety Representative, safety Committee and Work Health and Safety Law.
You have the opportunity to credit this course towards half of the BSB30719 Certificate III of Work Health and Safety.
​​How is the program delivered?
The program is delivered over 5 days face to face by an approved Worksafe WA trainer and assessor who will apply the course to your workplace context. Below is our 2023 course calendar highlighted in blue.
​How will you be assessed?
Assessment is undertaken by observation of your participation, structured activities and answering questions.
​How much does it cost?
$935 Full course (5 days)
$200 Refresher (1 day)
Please note all learners will need to bring their own laptop or device to access the participants workbook online.
​What is included in the program?
Day One:
Introduction to WHS
Evolution and overview of the WHS legislative framework
Key parties with WHS legislative duties and functions
Role and function of WorkSafe WA and enforcement of the WHS Act
Day Two:
The regulator (WorkSafe WA presentation)
Consultation, representation and participation arrangements under the WHS Act
Election and the role of HSRs in the workplace
Obligations of a PCBU to HSRs and protections for HSRs from discrimination
Health and safety committees
Day Three:
Strategies and skills for HSRs to support effective consultation
Representing workers as an HSR – negotiation and issue resolution
Monitoring the PCBU's management of work health and safety risks
Day Four
Workplace inspections and recording findings
Notifiable incidents
Incident investigation
Day Five
Reviewing a code of practice
Issuing a PIN
Direction to cease unsafe work
Course review and conclusion
Please note:
HSR Refresher course is not mandatory and down to the PCBU discretion if the refresher is required.
At 36 months – Full renewal is required – 5 day course
————-
Training Resources
You will be provided with:
A comprehensive participation manual accessible online
Resources in the public domain from the legislation
Wifi access to the internet
​
Qualification Pathways
Certificate III in Work Health and Safety.
​
​Where is training conducted?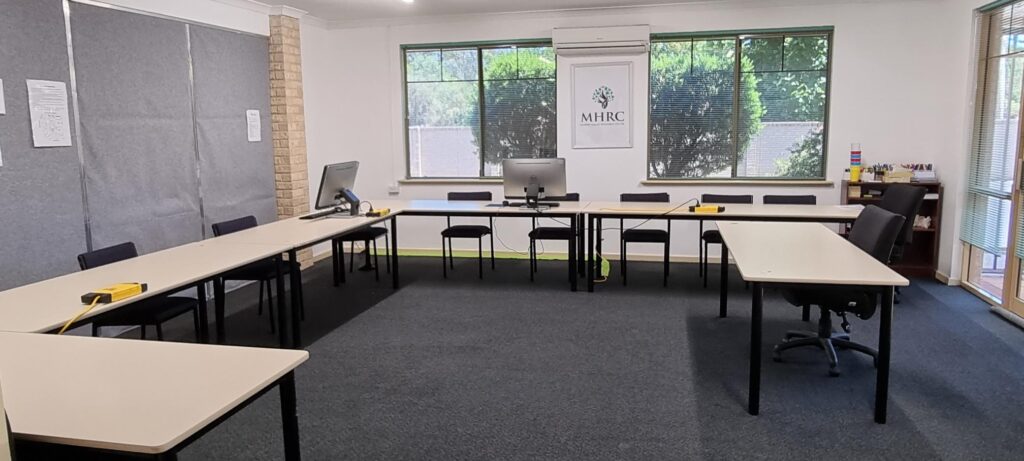 ​The course is held at Murray House Resource Centre in Pinjarra in our dedicated training rooms, equipped with computers and resources required to complete the program (or we can come to you onsite as required). All learners will need to bring their own laptop or device to access the participants workbook online.
​
​Course times: 8.30am – 3.30pm
Location: 14 James St, Pinjarra WA 6208
Parking: There is ample free parking located behind our building.
Catering: Morning tea is provided. We have a fridge and microwave for your use if you wish to bring your own lunch, alternatively there are several food outlets across the road at Pinjarra Junction Shopping Centre.
Recognition of Prior Learning (RPL) is not available for this course. It is a WorkSafe WA requirement that you attend all 5 days in person.

Please direct all course enquiries to:
Murray House Resource Centre:
P: 08 9531 2298
E: [email protected]
Reviews
'Just want to say the WHS training was fantastic. The trainer Keith is amazing, he made the course so enjoyable and he really delivered the course work well. I've learnt so much and look forward to the role of WHS rep in my workplace. Thank you for providing me with the training. I highly recommend Murray house for future staff training 😃"
'Thank you for providing such a great recommendation for Murray House – Go you!!'