Expression of interest being taken – please get in touch.
​
Who is this short course for?
This short course is aimed at people wanting to learn or refresh on accounts payables and receivables using a software program. Ideal for those who are stepping up or changing jobs or just need a simple refresher. The MYOB program enables you to work smarter not harder simplifying your records and your work load.
Course Overview
MYOB is an accounting software system that is used as a tool to record a business' financial information. Management can then use this information to make informed business decisions about how best to use the resources on hand to make a profit.
MYOB offers four different products to meet the individual needs of different businesses. As businesses come in all shapes and sizes, it is important to choose the right accounting software to meet these needs. Further information about the different products available can be found here https://www.myob.com/au/pricing.
In this course we use Account Right Plus and will cover the following:
Track income and expenses
Create and send unlimited professional invoices and quotes
Accept payments
Scan and store receipts
Track GST and lodge BAS
Connect your bank accounts (Bank feeds)
Insights and reporting
Payroll
To learn the whole package, it would take approximately 40 hours or 7 full days of training. The focus of this 2-day short non-accredited course is to teach you how to use MYOB to process daily accounts payable and accounts receivable transactions. Our focus will be on the command centres Accounts, Banking, Sales, Purchases and Cards.
​How will you be assessed?
Assessment is undertaken by observation of your participation, structured activities and answering questions to show your understanding. You will be awarded a participation certificate which will be emailed to you after you have completed the 2 days.
​How much does it cost?
$310.00
Full 2 days
Payable before the course commences.
Training Resources
You will be provided with:
A laptop to use in the classroom which already has the MYOB training package downloaded
Hard copy resources
Wifi access to the internet

​Where is training conducted?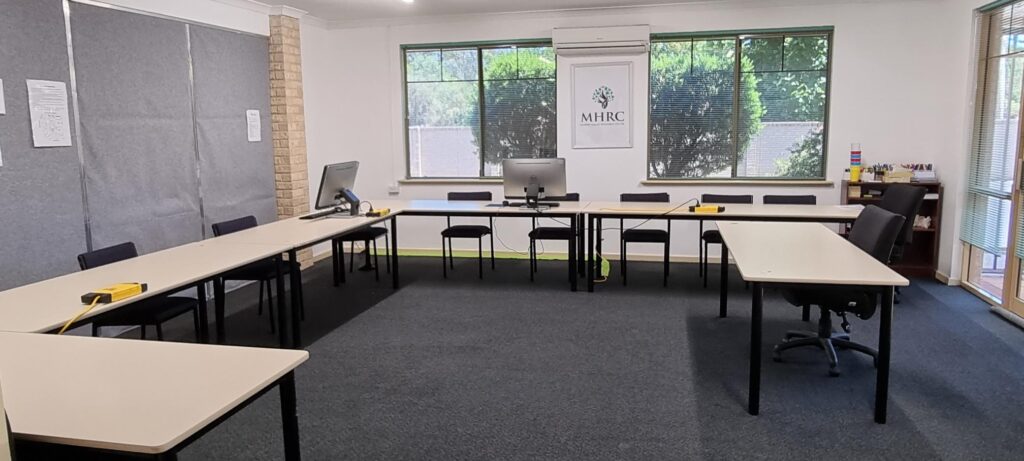 ​The course is held at Murray House Resource Centre in Pinjarra in our dedicated training rooms, equipped with computers and resources required to complete the program.
​
​Course times: 9.00am – 4.00pm
Location: 14 James St, Pinjarra WA 6208
Parking: There is ample free parking located behind our building.
Catering: Coffee, tea and biscuits are provided. We have a fridge and microwave for your use if you wish to bring your own lunch, alternatively there are several food outlets across the road at Pinjarra Junction Shopping Centre.

Please direct all course enquiries to:

Murray House Resource Centre:
P: 08 9531 2298
E: [email protected]
REVIEWS:
'Great course if you are wanting to work in accounts admin, had a great time, nice to meet new people and the presenter Lauren, was lovely'. Kailin 1.7.22
'Considering it was only a two day course, we learnt a lot. Just the right amount, otherwise it would of been too confusing. I had previous experience with payables and receivables but not profit and loss and bank recs, so that was definitely useful'. Leah 1.7.22
'Thank you for your time and patience. This has been a big help, enjoyable two days'. Mel 1.7.22